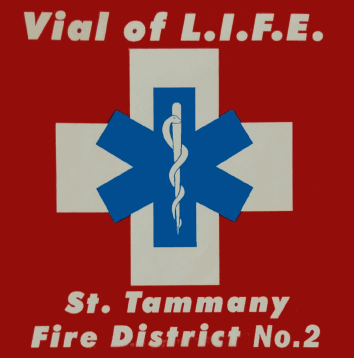 St. Tammany Parish Fire Protection District No. 2 has implemented the Vial of L.I.F.E. program to our district to better serve the citizens in our Fire District. The information can be picked up at any of our three Stations.
There is certain criteria to be eligible to participate in the Vial of L.I.F.E. Please see the information below that will better explain the
What is it?
Vial of L.I.F.E. is an easily located source of information used by First Responders when they go to your house and find you unable to answer questions about your medical conditions, allergies, medications, advanced directives (Do Not Resuscitate orders), your doctor's name and phone number, and other valuable information that may save your life.
For Whom?
Individuals over 60 years of age (especially those living alone), people to whom English is a second language, and people with special health problems, and anyone who feels that they would like to participate.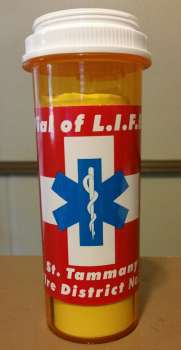 Exactly how does it work?
The Vial of L.I.F.E. package includes an easy to fill out patient information form to be enclosed in the vial and placed inside the refrigerator door. Also, a sticker to be placed on the front door or window, and a refrigerator magnet. When any First Responder sees the sticker or magnet, they will know to look in the refrigerator for the vital information. This will save us valuable time during medical emergencies by providing useful information to our responding First Responders so they can make accurate informed decisions about the treatment you need.
How much does it cost?
This is a community outreach program which is conducted at no cost to our citizens.